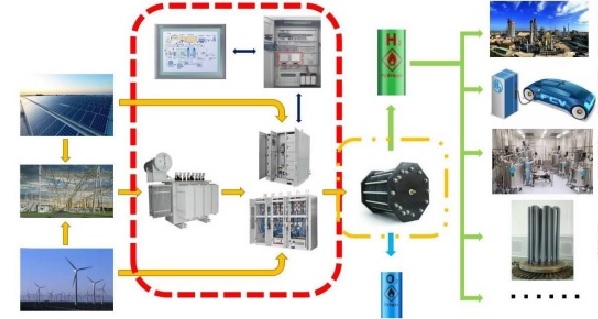 The electrolytic gas rectifier is mainly used in the electrolytic synthesis of hydrogen, sulfur hexafluoride, carbon tetrafluoride, sulfur hexafluoride, ultra pure ammonia and other special gases.
Hydrogen production by electrolysis of water is the separation of water molecules into hydrogen and oxygen through an electrochemical process under the action of direct current. According to the different diaphragm, it can be divided into alkaline water electrolysis, proton exchange membrane electrolysis and solid oxide electrolysis.
Electrolytic method to obtain fluorine gas, electrolytic potassium hydrogen fluoride and hydrogen fluoride mixture, with compacted graphite as the anode, steel electrolytic cell body as the cathode, potassium hydrogen fluoride as electrolyte, anhydrous hydrofluoric acid electrolytic, and then through purification.
Electrolytic synthesis method to produce sulfur hexafluoride technology, the sulfur is directly added to the fluorine electrolytic cell, and is prepared into khF2-HF-S mixture. When electrolytically melting this mixture, the fluorine produced immediately reacts with the sulfur in the electrolyte and generates SF6. After adding the sulfur, the electrolytic voltage of the electrolytic cell does not increase, nor does it cause current loss.